Power Skating Sessions Start Oct 17
---
Burnaby New West Ringette Association will be hosting Power Skating sessions starting Tuesday October 17th, 2023, 6:15am-715am at Bill Copeland Sports Complex. These development sessions are provided in addition to regular practice ice provided to teams.
We are pleased to announce that we have Coach Lee, Vancouver Skating Club's Director of Programs returning to the program. Lee has been coaching Power Skating for 20 years. The program is open to all BNWR players in U12-U19 divisions and runs each week until mid-March with the exception of Tuesdays following stat holidays.
Cost for Power Skating program:
7 Sessions - U12 = $105.00
6 Sessions - U14 + 2009 birth year (1st Year U16) = $90.00
5 Sessions - U19 + 2008 birth year (2nd Year U16) = $75.00
Registration is now open on Ramp and space is limited, so
register here now
! The schedule is as follows for each group: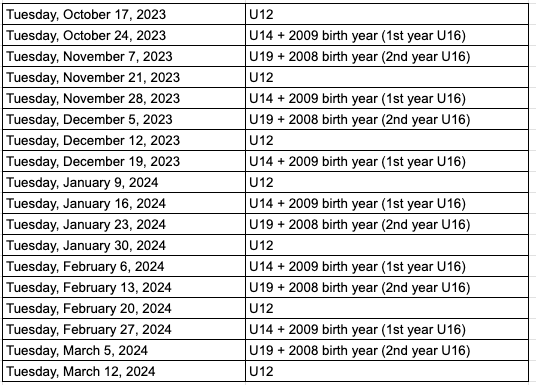 If you are seeking additional ringette skating development and individualized instruction, there are a number of services (external to BNWR) around the Greater Vancouver area. If you have any questions about the benefits of power skating or would like some assistance in identifying options available to receive power skating instruction outside the association, please reach out to Elana Spelling, Director of Player Development at bnwrplayerdevelopment@gmail.com.
For new ringette players - powerskating might not be the necessary first step - any opportunities to learn and develop skating skills (e.g. CanSkate) will contribute positively to player's development. And even just getting out and skating during public skating or during the winter will help your player with this skill as well!
Power Skating & Skating Instruction Additional Resources:
CANpower - The Skate Canada CanPower program is for those who are aspiring to be or currently playing hockey or ringette and wish to improve the quality of their skating. Taught by Skate Canada certified CANPower instructors, our experienced Grandview coaches will facilitate the program to build on balance, control and agility which are foundational hockey skills. Students must be at minimum Stage 3 CANSkate or above for entry into the program
Beaudies House of Hockey Ringette and Skating - is a program that will continue to work on balance, stride and edges with the focus towards power, speed, acceleration, lateral movement, quick feet and much more.
Warriors Skating Academy covers Learn to Skate & Power Skating. Whether

you've

never been on the ice or have skated for several years, we have programs designed to teach the "proper" fundamentals of skating.
I

nside

Edge Training -Most of our programs are 1-hour sessions and are either based out of Burnaby Winter Club, Planet Ice Coquitlam, Scotia Barn, or Abbotsford.Through correction and repetition, this program provides comprehensive instruction on all aspects of skating. From basic skating posture and stride efficiency to lateral quickness and acceleration, this clinic will address all techniques that are required to play the game of ringette.